Aaron Leishman
Aaron Leishman has a short bio with brief information on his background. Please view the link below for more information.
9500 Corkscrew Palms Circle Suite 4
Estero, FL 33928
Find us
See what patients are saying about Dr.Leishman
Posts for: October, 2012
By Aaron A Leishman, DMD, PA
October 22, 2012
It is not often that you find a celebrity who is willing to speak candidly about any cosmetic or restorative dentistry that he or she has had. Instead, most prefer that their fans just assume that their dazzling "Hollywood" smile is something that just happened naturally. However, that is not the case with Kathy Ireland, the former Sports Illustrated cover girl, current business mogul and founder of kathy ireland Worldwide, a billion dollar marketing and design firm. In a Dear Doctor magazine cover story she talks openly about her dental experiences, injuries and treatment so that people worldwide can understand what may be possible for them.
For Kathy, it happened several years ago when she was playing with her husband and children in their driveway. Kathy decided that she would stand in her children's wagon and surf across their driveway. Instead, she ended up "face-planting," as she describes it, in a freak accident that left her with a broken nose, split forehead and several broken teeth. She recalls that it sounded like a watermelon had smashed. Luckily, her husband, an emergency room physician, was on hand to care for her. Kathy is just as thankful to her cosmetic and restorative dentist who restored her trademark smile with some veneers and a dental implant. Today, the only reminder she has from this accident is a small scar on her nose that she covers with a little makeup.
You would think that this accident would be enough trauma for one person; however, Kathy describes an earlier accident where she knocked out a tooth and then later knocked it loose again. Kathy also wanted to take the time to let readers know that her dental implant experiences were "pretty easy." She did recall, "hearing all the sounds while all of it was going on" and then added, "but I have to tell you, that after being a mom and having kids, going to the dentist...is like going to the spa!" She said that she has even fallen asleep in the dental chair.
To learn more about Kathy Ireland, continue reading the Dear Doctor magazine article "Kathy Ireland." Or if you think cosmetic or restorative dentistry is right for you, contact us today to schedule an appointment to discuss your specific goals.
By Aaron A Leishman, DMD, PA
October 12, 2012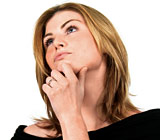 Are you are considering a cosmetic procedure such as porcelain veneers? To assist you in making this decision, we developed the following list of questions you should consider asking before getting porcelain veneers.
Am I a good candidate for porcelain veneers?
Can you show me examples of your work?
How much will my veneers cost?
Will my insurance cover any portion of my procedure?
Do you offer any financing for my procedure or can you make any recommendations for financing?
Can you create a computer-generated image or mock-up of what my new smile will look like?
How will you chose what color to make my veneers?
How long will it take from my initial consultation until I receive my final, permanent veneers?
How much tooth reduction (drilling) will you need to do before placing my veneers?
How do veneers attach to my teeth?
Can you create a prototype or temporary veneers so that I can "test drive" my new smile before my permanent ones are made?
What do I need to do to clean and protect my veneers?
How long can I expect my veneers to last?
If at some point in the future I decide I want my veneers removed, what can I expect?
We hope that the above questions help you obtain all the answers you need as you consider getting porcelain veneers. If you have other questions, concerns, or if you are ready to take the next step and schedule a consultation, please contact our office.