Aaron Leishman
Aaron Leishman has a short bio with brief information on his background. Please view the link below for more information.
9500 Corkscrew Palms Circle Suite 4
Estero, FL 33928
Find us
See what patients are saying about Dr.Leishman
Posts for: November, 2012
By Aaron A Leishman, DMD, PA
November 26, 2012
As a Pro Football Hall of Famer and first runner up on the hit television show Dancing with the Stars, Jerry Rice has a face and smile that truly has star quality. However, that was not always the case. During an interview with Dear Doctor magazine, the retired NFL pro discussed his good fortune to have had just a few minor dental injuries throughout his football career. He went on to say that his cosmetic dentist repaired several of his chipped teeth with full crowns. Rice now maintains his beautiful smile with routine cleanings and occasional tooth bleaching.
If you have chipped, broken or missing teeth, or are considering a smile makeover, we want to know exactly what you want to change about your smile, as the old adage is true: Beauty is in the eyes of the beholder. This is one reason why we feel that listening is one of the most important skills we can use during your private, smile-makeover consultation. We want to use this time to ensure we see what you see as attractive and vice versa so that together we can design a realistic, achievable blueprint for your dream smile.
For this reason, we have put together some questions you should ask yourself prior to your appointment:
What do you like and dislike about the color, size, shape and spacing of your teeth?
Do you like how much of your teeth show when you smile and when your lips are relaxed?
Are you happy with the amount of gum tissue that shows when you smile?
Do you prefer a "Hollywood smile" with perfectly aligned, bright white teeth, or do you prefer a more natural looking smile with slight color, shape and shade variations?
To learn more about obtaining the smile you want, continue reading the Dear Doctor magazine article "Great Expectations — Perceptions In Smile Design." Or you can contact us today to schedule an appointment so that we can conduct a thorough examination and discuss your cosmetic and restorative dentistry treatment goals. And if you want to read the entire feature article on Jerry Rice, continue reading "Jerry Rice — An Unbelievable Rise To NFL Stardom."
By Aaron A Leishman, DMD, PA
November 08, 2012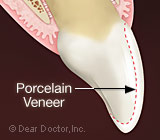 If you've ever looked through a magazine and viewed the perfectly aligned white smiles of celebrities and models, you may be already familiar with the look of porcelain veneers. To achieve a picture-perfect smile, many Hollywood stars choose porcelain veneers (thin-layers of porcelain) that are bonded to the front of teeth allowing for the alteration of tooth position, shape, size and color. By fixing imperfections, as well as whitening them, veneers offer celebrities a perfect smile that, when maintained properly, can last for several decades.
Evaluation: If porcelain veneers sound appealing, our office can help you decide if you're a good candidate for them. We will ensure you have sufficient tooth structure, that your teeth are in more or less a normal position, and that symmetrical gum contours are present, allowing for proper "framing" of the teeth, necessary for a beautiful smile.
The Process: Once it's been determined that you're a good candidate for veneers, our office will begin a smile analysis using computer imaging to digitally replicate your smile and then fabricate a mock-up smile made of tooth-colored wax. We will work with you to determine the right color and shade for your veneers. You can choose the brightest, whitest "Hollywood smile" or opt for a more natural color and enhanced look.
Next Steps: After your initial appointment, it typically takes the laboratory one week to fabricate your porcelain veneers. The insertion of your veneers can be done with or without a local anesthetic. We will place the veneers on your teeth with a light-sensitive resin, which sets with the use of a white light, effectively bonding them to your teeth. While you may initially experience some tooth sensitivity to hot or cold, this will disappear after a few days. Maintaining your perfect smile requires simple brushing and flossing techniques and routine check ups.
Contact us today to schedule an appointment to discuss any questions you may have regarding porcelain veneers. Read more about this topic in the Dear Doctor magazine article "Smile Design, Enhanced by Porcelain Veneers."