Aaron Leishman
Aaron Leishman has a short bio with brief information on his background. Please view the link below for more information.
9500 Corkscrew Palms Circle Suite 4
Estero, FL 33928
Find us
See what patients are saying about Dr.Leishman
Posts for: January, 2013
By Aaron A Leishman, DMD, PA
January 15, 2013
Cat Cora is a world-class chef, restaurateur, best-selling author, and philanthropist — on top of being the first female chef on the hit television show Iron Chef America. She is also the mother of four active young sons. And while all these important roles require her daily attention, she makes oral health a top priority for herself and her family through diet, brushing, flossing and routine visits to the dentist.
During a recent interview with Dear Doctor magazine, Cat revealed that she had her wisdom teeth removed when she was in her thirties and another tooth extracted and replaced with a dental implant. When asked to compare the two experiences, Cat said that the implant was "much easier for me." She went on to say, "It feels very natural" and "now, I don't even think about it."
Some may be surprised by Cat's response; however, we find it to be a quite common one.
There is no question that over the last two decades, dental implants have revolutionized tooth replacement and the field of dentistry. A dental implant, used to replace missing teeth, is placed in the jawbone with a minor surgical procedure. What's amazing is that over time these dental implants actually fuse with or integrate into the bone, thus making them an ideal permanent solution for replacing a missing tooth. They are typically made of commercially pure titanium, a substance that has been used for medical and dental implants for years. The crown, the part above the gum tissues, is attached to the implant via a retaining screw and a connecting piece called an abutment. The crown itself is artistically crafted using porcelain to mimic the look and feel of a natural tooth — just as Cat Cora describes.
To learn more about dental implants, continue reading the Dear Doctor magazine article "Dental Implants, Your Third Set of Teeth." Or you can contact us today to schedule an appointment so that we can conduct a thorough examination and discuss what treatment options will be best for you. And to read the entire interview with Cat Cora, please see the article "Cat Cora."
By Aaron A Leishman, DMD, PA
January 05, 2013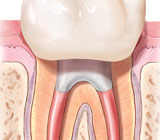 We pride ourselves on educating our patients regarding oral health and dental treatment. This is why we are providing you with these frequently asked questions (FAQs) regarding root canals. Our belief is that by being informed about this important dental treatment, you will be more comfortable should you ever require a root canal.
Exactly what is root canal treatment?
A root canal treatment is an endodontic procedure ("endo" – inside: "dont" – tooth) in which the living pulp tissues are housed, including the nerves. When a severely decayed or damaged tooth begins to hurt, it is because the pulpal tissues are inflamed or infected, and the response of the nerves is varying degrees of pain — letting you know something is wrong. If the pulp is dead or dying it must be removed and the root canal of the tooth is filled and sealed to stop infection and to save the tooth.
Who typically performs them?
Endodontics is a specialty within dentistry that specifically deals with the diagnosis and treatment of diseases and disorders of root canal issues affecting a tooth's root or nerve. While endodontists are dentists who specialize in root canal treatment, general dentists may also perform root canal treatment and are usually the dentists you will consult with when you first have tooth pain and who will refer you to an endodontist if necessary.
What are the symptoms of a root canal infection?
Root canal symptoms and the character of the pain may vary depending on the cause. For example, symptoms may be:
Sharp, acute pain that is difficult to pinpoint
Intense pain that occurs when biting down on the tooth or food
Lingering pain after eating either hot or cold foods
Dull ache and pressure
Tenderness accompanied by swelling in the nearby gums
Does root canal treatment hurt?
A common misconception is that a root canal treatment is painful when, in actuality, it is quite the opposite. The pain associated with a root canal occurs prior to treatment and is relieved by it — not visa versa.
If you have tooth pain, you may or may not need a root canal treatment. Contact us today (before your symptoms get worse) and schedule an appointment to find out what's causing the problem. And to learn more about the signs, symptoms, and treatments for a root canal, read the article "Common Concerns About Root Canal Treatment."