Aaron Leishman
Aaron Leishman has a short bio with brief information on his background. Please view the link below for more information.
9500 Corkscrew Palms Circle Suite 4
Estero, FL 33928
Find us
See what patients are saying about Dr.Leishman
Posts for: February, 2013
By Aaron A Leishman, DMD, PA
February 17, 2013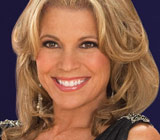 Describing Vanna White, co-host of the hit television game show Wheel of Fortune as friendly is an understatement. Yes, a good portion of the credit goes to her bubbly personality; however, you can't look at her without noticing her world-famous smile.
During an interview with Dear Doctor magazine, Vanna shared some of the secrets to her trademark smile. Secrets that she is instilling in her children.
"I floss every day and I brush my teeth at least twice a day — morning and night — and sometimes after lunch." She added, "I think that flossing is the most important thing. I believe that dental floss helps a lot, as it keeps your gums strong and looking younger." And when asked about how often she has her teeth professionally cleaned she replied, "...every four to five months because I get a lot of plaque buildup."
A typical dental hygiene visit is one that involves prophylaxis, a dental (and insurance) term for scaling and or polishing procedures to remove plaque and calculus (tartar) from the crown or portion of the tooth that you can see. Scaling is a procedure where we use special hand-held instruments and/or ultrasonic scalers to remove plaque, bacteria and tartar that can coat your teeth causing them to feel rough or fuzzy. To polish your teeth, we use a rubber polishing cup, prophy paste and a motorized instrument that removes bacterial plaque and surface stains. This is usually the last portion of a routine cleaning because it leaves your teeth feeling smooth and shiny.
However, if you have been seeing blood when you brush your teeth or while flossing, you have the telltale signs of periodontal (gum) disease. During your cleaning appointment, we will clean below the gum line to treat and manage your periodontal disease (an infection of the gum and jaw bones). We may also discover that additional, deep-cleaning treatments (such as root planing) may be needed to treat and manage your periodontal disease.
To learn more about this topic, continue reading the Dear Doctor magazine article "Teeth Polishing." Or you can contact us today to schedule an appointment so that we can conduct a thorough examination and cleaning. And if you want to read the entire feature article on Vanna White, continue reading "Vanna White."
By Aaron A Leishman, DMD, PA
February 03, 2013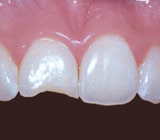 Damaging the crown of a tooth (the part of the tooth that is visible above the gums) is the most common type of dental injury. The tooth may be broken or chipped. It is good to be prepared by knowing how such cases should be treated.
What is the first thing to do if my tooth is chipped or broken?
If fragments broke off the tooth, try to find and save them. They can probably be reattached to the tooth by bonding.
Does a chipped or broken tooth hurt?
The tooth may be sensitive to touch, hot and cold. Depending on the type of injury and how much of the tooth's inner surface is exposed, there may also be pain.
How long can I wait before getting treatment?
Get treatment right away, within 12 hours if possible. Teeth with crown fractures can be treated within 12 hours without affecting long-term outcomes.
What types of treatment may be used?
The treatment recommended depends on the tooth and the type and severity of the injury. Exposure of a tooth's inner pulp can be treated by a pulpotomy (partial pulp removal) technique. Front teeth can be temporarily restored with special cements, or the original tooth fragments may be reattached by bonding. Composite resin bonding may be used to restore the tooth's original appearance and function. Composites can be made in a wide range of tooth colors and can match the original tooth almost exactly.
Is treatment different if the damaged tooth is a primary (baby) tooth?
Chipped or broken primary teeth are generally treated similarly to permanent teeth. The treatment depends on the extent of the injury and damage to the tooth. Treatment of fractured primary teeth also depends on the proximity of the injured tooth to the permanent tooth beneath it, which will ultimately replace it. If a fractured primary tooth cannot be saved, it may be removed.
What if my tooth is loosened but not broken?
If the tooth is loosened but not cracked, broken or chipped, no dental treatment may be required. However, we will collect baseline clinical and x-ray information and keep an eye on the tooth or teeth in the future. We will need to check the tooth during recall visits to see whether the dental pulp is still living or whether it has died as a result of its injury. The latter condition can lead to a variety of problems and will require treatment.
Contact us today to schedule an appointment to discuss your questions about repairing a chipped tooth. You can also learn more by reading the Dear Doctor magazine article "The Field-Side Guide to Dental Injuries."