Aaron Leishman
Aaron Leishman has a short bio with brief information on his background. Please view the link below for more information.
9500 Corkscrew Palms Circle Suite 4
Estero, FL 33928
Find us
See what patients are saying about Dr.Leishman
Posts for: June, 2013
By Aaron A Leishman, DMD, PA
June 27, 2013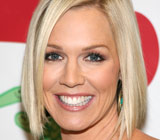 Plenty of parents use little tricks to persuade young ones to eat their vegetables, wash their hands, or get to bed on time. But when actress Jennie Garth wanted to help her kids develop healthy dental habits, she took it a step further, as she explained in a recent interview on Fox News.
"Oh my gosh, there's a froggy in your teeth!" the star of the '90s hit series Beverly Hills 90210 would tell her kids. "I've got to get him out!"
When her children — daughters Luca, Lola, and Fiona — spit out the toothpaste, Garth would surreptitiously slip a small toy frog into the sink and pretend it had come from one of their mouths. This amused the kids so much that they became engaged in the game, and let her brush their teeth for as long as necessary.
Garth's certainly got the right idea. Teaching children to develop good oral hygiene habits as early as possible helps set them up for a lifetime of superior dental health. Parents should establish a brushing routine with their kids starting around age 2, when the mouth is becoming filled with teeth. A soft, child's size toothbrush with a pea-sized dab of fluoride toothpaste and plenty of parental help is good for toddlers. By around age 6, when they've developed more manual dexterity, the kids can start taking over the job themselves.
Here's another tip: It's easy to find out how good a cleaning job your kids are doing on their own teeth. Over-the counter products are available that use a system of color coding to identify the presence of bacterial plaque. With these, you can periodically check whether children are brushing effectively. Another way of checking is less precise, but it works anywhere: Just teach them to run their tongue over their teeth. If the teeth fell nice and smooth, they're probably clean, too. If not... it's time to pull out the frog.
And don't forget about the importance of regular dental checkups — both for your kids and yourself. "Like anything, I think our kids mirror what we do," says Garth. We couldn't agree more.
If you need more information about helping kids develop good oral hygiene — or if it's time for a checkup — don't hesitate to contact us and schedule an appointment. You can learn more in the Dear Doctor magazine article "How to Help Your Child Develop the Best Habits for Oral Health."
By Aaron A Leishman, DMD, PA
June 14, 2013
Are you unhappy with the appearance of your smile? Do you get anxious about smiling in social settings? Have you ever wished you had teeth like your favorite celebrity? If you have answered yes to any of these questions it might be time to discuss a smile makeover with us!
During our initial meeting we will ask you exactly what look you are hoping to achieve. Open communication will help ensure ultimate success and satisfaction — you need to tell us what you want and we need to tell you what is actually possible. Then we can plan a solution that is both aesthetically pleasing and functional.
We will also decide which cosmetic materials and techniques to use; this can range from composite resins (tooth-colored fillings), porcelain veneers (thin layers of dental ceramic that are bonded to your tooth enamel) or porcelain crowns (which replace the entire external form of a tooth).
Essentially, most people seem to want one of two looks — a "perfect" Hollywood smile or a more "natural" look. For those who want a "perfect" smile, we will focus on achieving symmetry so that your smile appears perfectly balanced. We will also focus on achieving uniform and maximum tooth brightness and whiteness.
For those who want a more "natural" smile, we can enhance your smile by gently improving brightness while maintaining a more normal symmetry to each tooth shape and size. This can produce a more elegant, youthful smile, not just a Hollywood white smile. We can also maintain slight color, shape and shade variations throughout your mouth.
The best tool for testing our vision is with the use of a tool we call a "provisional restoration." During this phase of the process we will actually create your new smile using temporary materials, allowing you to "test drive" your new look before committing to permanent materials. This way we can make sure you get exactly what you want. Once you give us the green light, these restorations will be replaced with your permanent new teeth.
Call our office today so we can get started! For more information on the importance of communication between dentist and patient during a smile makeover, read the Dear Doctor magazine article "Great Expectations: Is What You Get What You Want?"