Aaron Leishman
Aaron Leishman has a short bio with brief information on his background. Please view the link below for more information.
9500 Corkscrew Palms Circle Suite 4
Estero, FL 33928
Find us
See what patients are saying about Dr.Leishman
Posts for: August, 2013
By Aaron A Leishman, DMD, PA
August 21, 2013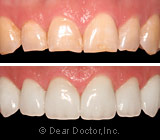 There are a number of materials and techniques available in cosmetic dentistry that help us improve our patients' smiles. Porcelain veneers stand out as one of the most popular and least interventional of these options.
As the name implies, a veneer is a thin layer of dental restorative material that covers the original tooth surface. Veneers don't require an extensive amount of tooth preparation or removal of sound tooth structure, as with a crown or bridge.
Veneers are made of dental porcelain, a material compatible with living tissue and with a very life-like appearance. The dentist as artist can fashion the porcelain to precisely imitate an individual's natural teeth, including the natural color and hue of surrounding teeth.
Are porcelain veneers an option for you? Only a smile analysis in our office can determine that. Your teeth must be in a somewhat normal position. The teeth in question must have a sufficient amount of remaining tooth structure to support veneers. And you must have symmetrical gum contours that will allow for proper framing of the teeth, which will enhance the final cosmetic result.
If your current dental health meets these criteria, then porcelain veneers could help correct spaces between teeth that aren't too wide, improve poor color, or address poor shape, contours or minor bite problems. Veneers, however, do have their limitations. They aren't effective if you have poor tooth position, if the root positions are widely out of line, or if you have a poor profile. Some form of orthodontics may be needed initially for these situations.
That being said, porcelain veneers are an excellent long-term option in the right situation. Depending on your individual circumstance and how you care for your teeth, a veneer application can last for several years, or if they come loose or become chipped they can be repaired in most cases. The material is strong enough to withstand normal pressures exerted during chewing or biting, as long as you avoid activities like opening nutshells with your teeth or chewing on very hard candy.
Overall, porcelain veneers can give your smile a whole new look with little impact on your remaining tooth structure.
If you would like more information on porcelain veneers, please contact us or schedule an appointment for a consultation. You can also learn more about this topic by reading the Dear Doctor magazine article "Smile Design Enhanced With Porcelain Veneers."
By Aaron A Leishman, DMD, PA
August 06, 2013
Chewing tobacco is a known cause of oral cancer, yet many a Major League Baseball player has been seen walking onto the field with a round tin visibly poking out of his back pocket. That was before this year. Recognizing the influence big-leaguers have on their young fans, MLB players agreed to a new contract that limits their use of chewing tobacco and their ability to carry it around their fans. The 2012 season is the first to be played under the new rules, which were championed by Baseball Commissioner Bud Selig.
One player who used smokeless tobacco heavily is Baseball Hall of Famer Tony Gwynn. The former Padres slugger earlier this year endured 14 hours of surgery to remove a cancerous growth from the inside of his right cheek and graft a nerve from his shoulder to replace a facial nerve damaged by the tumor. This was Gwynn's second cancer surgery in less than two years.
When it comes to oral cancer, the importance of early detection can't be stressed enough. Unfortunately, this form of cancer is not usually detected until a late stage so the overall survival rate is poor, with only 58% surviving five years after treatment. Yet when oral cancer is detected while a lesion is small, survival rate exceeds 80%. That's why an oral cancer screening is always part of your dental check-up or regular cleaning appointment at this office.
During this screening we will examine your face, neck, lips, mouth, tongue and the back of your throat for any suspicious lesions (sores or ulcers) or lumps. Of course, if you notice any unusual lesions, or color changes (white or red patches), anywhere in your mouth that do not heal within two-three weeks, please come in to see us as soon as possible. And if you need help kicking a tobacco habit, we can advise you on how to get it.
If you would like more information about oral cancer, please contact us or schedule an appointment for a consultation. You can also learn more by reading the Dear Doctor magazine article "Oral Cancer."