Aaron Leishman
Aaron Leishman has a short bio with brief information on his background. Please view the link below for more information.
9500 Corkscrew Palms Circle Suite 4
Estero, FL 33928
Find us
See what patients are saying about Dr.Leishman
Posts for: November, 2013
By Aaron A Leishman, DMD, PA
November 27, 2013
If you have recently noticed swelling, bleeding or pain in your gums, you may have developed a gum abscess. It's the result of periodontal disease, an infection in the gum tissue caused by bacterial plaque that has adhered to the teeth. It's important in the short term to treat the abscess, and in the long-term the underlying gum disease for the survival of the affected tooth and your overall health.
A gum abscess is a sac filled with infection that has developed between the tooth and gum. Besides swelling, you may also notice tenderness when you bite down on a tooth or feel that the tooth is loose. If the abscess originates from a root canal infection it tends to be much more painful, and the pain will seem generalized rather than from a specific tooth.
The first step in treatment is to drain the abscess. We would numb the area with a local anesthetic and then allow the infection to drain. After drainage we would clean and irrigate the infected root surfaces to remove any noticeable bacterial plaque, and possibly prescribe antibiotics and anti-inflammatory medication to reduce swelling and pain. The drained abscess should heal in a few days to a week.
The next step is to treat the underlying cause of the abscess. Depending on what we find in our examination, this can include root planing and scaling (deep plaque and tartar removal), or a root canal treatment where the infected pulp within the root canal is removed, and the canal is then cleaned, filled and sealed.
It's also a good idea for patients with gum disease to have a thorough health checkup. It's possible that other general health conditions such as diabetes or heart disease may be contributing to the gum disease, and vice-versa.
Treating a gum abscess and the underlying cause is about more than relieving pain or discomfort — you're also protecting your dental and general health.
If you would like more information on the treatment of abscesses or gum disease, please contact us or schedule an appointment for a consultation. You can also learn more about this topic by reading the Dear Doctor magazine article "Periodontal (Gum) Abscesses."
By Aaron A Leishman, DMD, PA
November 12, 2013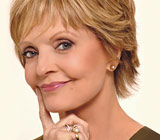 Florence Henderson, star of one of television's most beloved situation comedies, is still actively engaged in a variety of projects at 75-plus years of age. Her bright smile was part of her character as Carol Brady in The Brady Bunch, a popular sitcom that played for five seasons from 1969 to 1974. Though the show was discontinued, syndicated episodes continue to play in the U.S. and 122 other countries.
"I played Carol as the mother I always wished I had," she told Dear Doctor magazine. Her portrayal of mother and wife in a blended family with six children won her the Smithsonian Institution's TV Land Pop Culture Icon Award, which is on display in the National Museum of American History in Washington, DC.
After her successes on Broadway and in television, she was selected for numerous product endorsements, and The Wall Street Journal ranked her #5 in their top ten television endorsers based on viewer satisfaction. One of the products she endorsed was Polident, a brand of denture cleaners and adhesives. However, Henderson has revealed that she has her own natural teeth and does not wear dentures. Her advice to others who want to keep their natural teeth is to pay attention to prevention. "I think the most important thing one can do as with any health issue is prevention," she said. "Flossing, brushing, and regular dental checkups are vitally important if you want to keep your natural teeth."
When she was 22, she says, she had four impacted wisdom teeth removed at the same time. This experience made her aware of the importance of dental care, and since then she has had a checkup every six months. Wherever she travels, she says that she always has mouthwash, dental floss, toothpaste, and a toothbrush on the set.
Contact us today to schedule an appointment to discuss your questions about tooth care. You can learn more about Florence Henderson by reading the Dear Doctor magazine interview "Florence Henderson, America's Favorite TV Mom Has Many Reasons to Smile."