Aaron Leishman
Aaron Leishman has a short bio with brief information on his background. Please view the link below for more information.
9500 Corkscrew Palms Circle Suite 4
Estero, FL 33928
Find us
See what patients are saying about Dr.Leishman
Posts for: March, 2014
By Aaron A Leishman, DMD, PA
March 25, 2014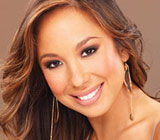 Growing up with a dentist stepdad, Cheryl Burke of Dancing with the Stars heard a lot over the years about the importance of good oral hygiene — in particular, the benefits of using dental floss.
"My dad would say, 'make sure you floss,' but I never really listened to him. I was very, very stubborn," Cheryl told Dear Doctor magazine recently in an exclusive interview. Cheryl admits this stubbornness took its toll, in the form of tooth decay. "I definitely had my share of cavities," Cheryl recalled.
Cavities can form when food particles, particularly sugar and carbohydrates, are not effectively cleaned from the spaces between teeth. These particles are then broken down by bacteria naturally present in the mouth, resulting in the production of acids that attack the tooth enamel.
When she reached her twenties, Cheryl decided she really needed to step up her oral hygiene and cultivate an asset so important to a professional dancer: a beautiful smile. And once she did, cavities became a distant memory.
"I think when you do floss frequently, it helps to reduce the chances of getting cavities," Cheryl said. "It took me a while to figure it out." Now Cheryl flosses after every meal. "I carry floss with me wherever I go. I have no shame busting out my floss in the middle of a restaurant!" She declared.
Dental decay is actually a worldwide epidemic, especially among kids. Untreated, it can lead to pain, tooth loss, and, because it is an infectious disease, it may even have more serious systemic (whole body) health consequences. The good thing is that it is entirely preventable through good oral hygiene at home and regular professional cleanings here at the office.
If it has been a while since you or your children have seen us for a cleaning and check-up, or you just want to learn more about preventing tooth decay, please contact us to schedule an appointment for a consultation. If you would like to read Dear Doctor's entire interview with Cheryl Burke, please see "Cheryl Burke." Dear Doctor also has more on "Tooth Decay: The World's Oldest & Most Widespread Disease."
By Aaron A Leishman, DMD, PA
March 10, 2014
Sports are an important element in human society — besides providing enjoyment they also build discipline, teamwork and character.
But sports activities, especially for children and teenagers, also carry the risk of physical injury — and your teeth and mouth aren't immune. About 22,000 mouth injuries occur annually in individuals under the age of 18. As the degree of contact within the sport rises, so does the risk of dental injuries.
To reduce this risk, it's important to adopt a comprehensive approach to dental injuries, beginning with protection. For any sport that involves a ball, stick, puck or physical contact with another player, athletes should incorporate two pieces of equipment to fully protect against mouth injury: headgear and a mouthguard. Both help to evenly distribute the forces generated during an impact and thus reduce the chance or severity of injury.
The design of headgear will depend on other factors involving a particular sport. Mouthguards are more singular in their purpose, and so what works in one sport should work in another. While there are a number of types like stock or "boil and bite," the highest level of protection is a custom-fitted mouthguard created by a dentist to specifically fit the individual's bite. Although more costly than other options, it can better reduce the chances of an even more costly mouth injury.
Because we can only reduce the risk of injury but never eliminate it, protection is only part of the approach. Individuals, parents and sports officials should have plans in place for treating dental injuries should they occur. Depending on the level of trauma, individuals should have access to a dentist as soon as possible. It's also important to know what to do when specific injuries occur, whether they require an immediate, urgent or less urgent response. The Dear Doctor magazine article, "The Field Guide to Dental Injuries" is an excellent primer on dental injury treatment.
Sports can have a positive effect on physical, emotional and social development. Adopting a well-rounded approach to dental injury prevention and treatment will help keep the focus on those benefits.
If you would like more information on protection and treatment from sports-related dental injuries, please contact us or schedule an appointment for a consultation. You can also learn more about this topic by reading the Dear Doctor magazine article "An Introduction to Sports Injuries & Dentistry."