Aaron Leishman
Aaron Leishman has a short bio with brief information on his background. Please view the link below for more information.
9500 Corkscrew Palms Circle Suite 4
Estero, FL 33928
Find us
See what patients are saying about Dr.Leishman
Posts for: April, 2014
By Aaron A Leishman, DMD, PA
April 24, 2014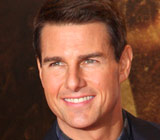 It's no surprise that plenty of teenagers go in for an orthodontic evaluation and come out wearing braces. But sometimes, an observant orthodontist may notice that an adult's smile could use a little bit of improvement, too. Even an adult like — Tom Cruise?
That's exactly what happened to the star of Top Gun, Rain Man and the Mission Impossible franchise. Cruise, then 39, was taking one of his children for orthodontic work when it was pointed out that the leading man's teeth were also out of alignment. So he opted for braces too.
"Yes, Tom Cruise has braces," said his publicist when the star appeared, sporting his new orthodontic appliances. "To him, it's no big deal." Cruise chose to get the relatively inconspicuous ceramic type, with only a thin wire visible in front of his teeth. He wore them for about a year and a half, having them temporarily removed when it was time to make a movie.
Ceramic braces are a popular choice among adult orthodontic patients, many of whom find that less noticeable orthodontic appliances fit in better with their personal or professional lifestyle. Clear aligners also provide a virtually invisible option. We can help you decide which appliance would best meet your needs. But the first step is a thorough evaluation of your periodontal health.
Is it Risky Business to get braces as an older adult? Not usually — but if you do show signs of periodontal disease, which is more prevalent in adults than teens, it's important to bring it under control before beginning your orthodontic treatment. There are also a few medical conditions, such as heart-valve disease, severe uncontrolled diabetes, and leukemia, which might preclude treatment.
For most people, however, orthodontics offers a great way to improve your appearance and boost your self-confidence — even if you're not a movie star. It is estimated that three-quarters of adults have some form of orthodontic problem; and studies have shown that orthodontic treatment can enhance an adult's career opportunities and social life.
So, if you're looking for a better smile at any age, don't hesitate to contact us or schedule an appointment to discuss your treatment options. You can learn more in the Dear Doctor magazine article "Orthodontics For The Older Adult."
By Aaron A Leishman, DMD, PA
April 09, 2014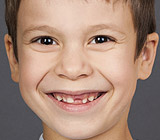 When children begin losing their primary ("baby") teeth, it's a rite of passage — a sign that childhood is transitioning to future adulthood. And while it's a normal part of dental development, it does bear watching for abnormalities.
Primary teeth are like deciduous tree leaves in that it's their nature to shed and give way for new growth. They serve a purpose not only in providing children a means to bite and chew food, but also as guides for the permanent teeth that will soon erupt in their place.
As it reaches the end of its development within the jaw, the permanent tooth will begin to exert pressure on the primary tooth. This stimulates a process known as resorption where the primary's roots begin to dissolve. This weakens its attachment to the jaw and the tooth becomes loose to the touch. At the end of this process, it doesn't take much coaxing for the tooth to finally come out of its socket, with occasional minor bleeding and tenderness around the site. You will notice if you look at the bottom of the lost tooth that the roots have completely dissolved, leaving only a small indention.
This natural process, however, can run into complications. In their roles as permanent teeth guides, there's a natural sequence for the loss of primary teeth; the permanent teeth develop along this sequence, which helps them erupt in the proper position. If a primary tooth is lost early and out of sequence (notably because of decay), the premature space can cause misalignment of the permanent teeth as they erupt.
That's why it's important for your child to have regular dental checkups, beginning sometime around their first birthday. This allows us to monitor primary tooth loss to make sure its progressing normally, as well as treat any condition such as tooth decay that could lead to premature loss. Regular checkups along with good oral hygiene practices will help ensure that the transition from primary to permanent teeth goes just as nature intended.
If you would like more information on the process of losing primary teeth in children, please contact us or schedule an appointment for a consultation. You can also learn more about this topic by reading the Dear Doctor magazine article "Losing a Baby Tooth."