Aaron Leishman
Aaron Leishman has a short bio with brief information on his background. Please view the link below for more information.
9500 Corkscrew Palms Circle Suite 4
Estero, FL 33928
Find us
See what patients are saying about Dr.Leishman
Posts for tag: bonding
By Aaron A Leishman, DMD, PA
February 03, 2013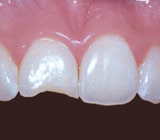 Damaging the crown of a tooth (the part of the tooth that is visible above the gums) is the most common type of dental injury. The tooth may be broken or chipped. It is good to be prepared by knowing how such cases should be treated.
What is the first thing to do if my tooth is chipped or broken?
If fragments broke off the tooth, try to find and save them. They can probably be reattached to the tooth by bonding.
Does a chipped or broken tooth hurt?
The tooth may be sensitive to touch, hot and cold. Depending on the type of injury and how much of the tooth's inner surface is exposed, there may also be pain.
How long can I wait before getting treatment?
Get treatment right away, within 12 hours if possible. Teeth with crown fractures can be treated within 12 hours without affecting long-term outcomes.
What types of treatment may be used?
The treatment recommended depends on the tooth and the type and severity of the injury. Exposure of a tooth's inner pulp can be treated by a pulpotomy (partial pulp removal) technique. Front teeth can be temporarily restored with special cements, or the original tooth fragments may be reattached by bonding. Composite resin bonding may be used to restore the tooth's original appearance and function. Composites can be made in a wide range of tooth colors and can match the original tooth almost exactly.
Is treatment different if the damaged tooth is a primary (baby) tooth?
Chipped or broken primary teeth are generally treated similarly to permanent teeth. The treatment depends on the extent of the injury and damage to the tooth. Treatment of fractured primary teeth also depends on the proximity of the injured tooth to the permanent tooth beneath it, which will ultimately replace it. If a fractured primary tooth cannot be saved, it may be removed.
What if my tooth is loosened but not broken?
If the tooth is loosened but not cracked, broken or chipped, no dental treatment may be required. However, we will collect baseline clinical and x-ray information and keep an eye on the tooth or teeth in the future. We will need to check the tooth during recall visits to see whether the dental pulp is still living or whether it has died as a result of its injury. The latter condition can lead to a variety of problems and will require treatment.
Contact us today to schedule an appointment to discuss your questions about repairing a chipped tooth. You can also learn more by reading the Dear Doctor magazine article "The Field-Side Guide to Dental Injuries."
By Aaron A Leishman, DMD, PA
September 10, 2012
Your son just crashed his skateboard and cracked a tooth, or maybe your daughter fell off the monkey bars at school and now has a chipped front tooth. For children, and some adults, repairing chipped or damaged teeth with tooth-colored restorative materials directly bonded to the teeth may be the perfect solution to restore their smiles.
What is Involved: Composite bonding is a technique that has been developed to correct chipped teeth and other minor dental imperfections. It may also be used to correct mild crookedness or gaps between teeth. The procedure requires the application of a tooth-colored composite resin material to the surfaces of teeth, which is then sculpted to the desired shape. It can be performed in a single visit for one or multiple teeth. The procedure usually takes between one and two hours, and the end result is a beautiful, natural-looking smile.
Advantages for Kids and Adults: Composite resin bonding is a good choice for kids and teens since their jaws are still growing and developing, and they may still be engaged in high-risk activities. After your child's teeth and jaws are fully developed, we can discuss options for more permanent restorations such as porcelain veneers or crowns. These require removal of more tooth structure, which could compromise the long-term health of your child's teeth if done too soon. Composite resin restorations, which bond straight to the teeth and require little to no tooth preparation or drilling are therefore a good option for fixing chipped teeth, and they're less expensive than choosing veneers.
Disadvantages: The longevity of composite resin restorations is related to how well you maintain your teeth. Many people can go for ten or fifteen years before they need to have the bonded resins repaired or replaced. Others will tend to stain and wear after only one or two years and will need some touch-up work.
Contact us today to schedule an appointment to discuss any questions you may have regarding dental bonding. Read more about this topic in the Dear Doctor magazine article "Repairing Chipped Teeth."