Aaron Leishman
Aaron Leishman has a short bio with brief information on his background. Please view the link below for more information.
9500 Corkscrew Palms Circle Suite 4
Estero, FL 33928
Find us
See what patients are saying about Dr.Leishman
Posts for tag: orthodontics
By Aaron A Leishman, DMD, PA
June 16, 2015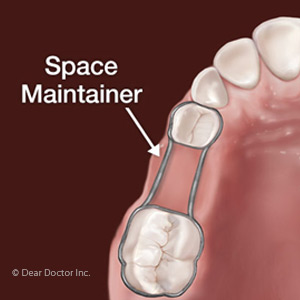 Children losing their primary ("baby") teeth is both natural and necessary. So, is it really that much of a concern if they lose one early?
The answer is yes — premature primary tooth loss could have long-term consequences for the permanent teeth as they develop within the jaw before eruption. Primary teeth play a crucial role in this development: as the permanent teeth form and grow the primary teeth serve as placeholders until they're ready to erupt. A natural process then takes place in which the primary tooth's roots dissolve (resorb) to allow them to fall out. Once they're out of the way, the permanent teeth can then erupt.
If, however, they're lost before the permanent teeth are ready, it leaves a space in the child's bite. The dynamic mechanism between teeth and the periodontal ligament causes adjacent teeth to move or "drift" into the space. This can crowd out the permanent tooth intended for the space, causing it to come in improperly forming a malocclusion (bad bite), or it may become impacted and remain partially or fully below the surface of the gums.
This poor dental development could lead to extensive orthodontic treatment later in life, which is why we seek to preserve even decayed primary teeth for their entire natural lifespan. If the tooth is lost, however, we need to take action to preserve the space for the permanent tooth and avoid costly treatment later.
This usually calls for a "space maintenance" appliance — a type of orthodontic "retainer" — worn by the child to prevent other teeth from drifting into the space. Designed by your orthodontist, the appliance can also perform a cosmetic and social function by causing the space to appear unnoticeable.
Maintaining that space requires monitoring — especially by an orthodontist — and continued dental hygiene and care both at home and at the dentist's office. The extra care preserving the space caused by premature tooth loss will help to ensure your child's dental structure develops properly and their future smile will be an attractive one.
If you would like more information on the care and treatment of primary teeth, please contact us or schedule an appointment for a consultation. You can also learn more about this topic by reading the Dear Doctor magazine articles "Early Loss of Baby Teeth" and "Losing a Baby Tooth."
By Aaron A Leishman, DMD, PA
April 09, 2015
Fans of the primetime TV show The Middle were delighted to see that high school senior Sue, played by Eden Sher, finally got her braces off at the start of Season 6. But since this popular sitcom wouldn't be complete without some slapstick comedy, this happy event is not without its trials and tribulations: The episode ends with Sue's whole family diving into a dumpster in search of the teen's lost retainer. Sue finds it in the garbage and immediately pops it in her mouth. But wait — it doesn't fit, it's not even hers!
If you think this scenario is far-fetched, guess again. OK, maybe the part about Sue not washing the retainer upon reclaiming it was just a gag (literally and figuratively), but lost retainers are all too common. Unfortunately, they're also expensive to replace — so they need to be handled with care. What's the best way to do that? Retainers should be brushed daily with a soft toothbrush and liquid soap (dish soap works well), and then placed immediately back in your mouth or into the case that came with the retainer. When you are eating a meal at a restaurant, do not wrap your retainer in a napkin and leave it on the table — this is a great way to lose it! Instead, take the case with you, and keep the retainer in it while you're eating. When you get home, brush your teeth and then put the retainer back in your mouth.
If you do lose your retainer though, let us know right away. Retention is the last step of your orthodontic treatment, and it's extremely important. You've worked hard to get a beautiful smile, and no one wants to see that effort wasted. Yet if you neglect to wear your retainer as instructed, your teeth are likely to shift out of position. Why does this happen?
As you've seen firsthand, teeth aren't rigidly fixed in the jaw — they can be moved in response to light and continuous force. That's what orthodontic appliances do: apply the right amount of force in a carefully controlled manner. But there are other forces at work on your teeth that can move them in less predictable ways. For example, normal biting and chewing can, over time, cause your teeth to shift position. To get teeth to stay where they've been moved orthodontically, new bone needs to form around them and anchor them where they are. That will happen over time, but only if they are held in place with a retainer. That's why it is so important to wear yours as directed — and notify us immediately if it gets lost.
And if ever you do have to dig your retainer out of a dumpster… be sure to wash it before putting in in your mouth!
If you would like more information on retainers, please contact us or schedule an appointment for a consultation. You can learn more in the Dear Doctor magazine articles "The Importance of Orthodontic Retainers" and "Why Orthodontic Retainers?"
By Aaron A Leishman, DMD, PA
February 13, 2014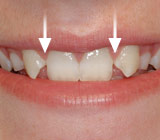 Normally, teeth erupt and grow in a symmetrical alignment: on the top palate, for example, the two central incisors take center stage; on either side are the lateral incisors, and then beside these the canines (cuspids).
But what happens when teeth don't grow in? The result can be a smile that just doesn't quite look right; more importantly, normal function is impaired because the person can't grasp and chew food correctly.
These missing teeth are the result of a congenital ("from birth") defect. It's estimated that almost a quarter of all people are missing one or more wisdom teeth, and more than 5% are missing one or more second premolars or upper lateral incisors.
In a normal arch (the upper or lower set of teeth), each tooth type performs a particular role during eating. A missing tooth causes the remaining teeth to compensate, but beyond their capacity. The remaining teeth also tend to move to fill in any gaps left by the missing teeth, as when the eye teeth move toward the central incisors in the absence of the lateral incisors. This puts them out of position, so they can't cover ("occlude") their counterparts on the other arch and grasp food properly.
To improve the smile and restore proper chewing function it's necessary to first move these "out of position" teeth to their correct position through orthodontics. We would then fill the gaps that result with life-like restorations (preferably dental implants with crowns) that resemble the type of tooth that should be there.
The restoration needs to be timed carefully, especially for young patients whose jaw structure has not fully developed. If implants are installed before the jaw's full maturity (usually late teens or early twenties), the implant crowns may not appear to be the right length as the jawbone continues to grow. Since bone growth depends on the normal pressures exerted by the teeth, there may also be insufficient bone mass in the gap area to support a dental implant. Growing bone with bone-grafting material may be necessary before installing implants.
The total process could take many months or even years, depending on age and other conditions. In the end, though, the results can be astounding — better function and a vibrant, new smile.
If you would like more information on developmental problems with teeth, please contact us or schedule an appointment for a consultation. You can also learn more about this topic by reading the Dear Doctor magazine article "When Permanent Teeth Don't Grow."