Aaron Leishman
Aaron Leishman has a short bio with brief information on his background. Please view the link below for more information.
9500 Corkscrew Palms Circle Suite 4
Estero, FL 33928
Find us
See what patients are saying about Dr.Leishman
Posts for tag: root canal
By Aaron A Leishman, DMD, PA
June 17, 2014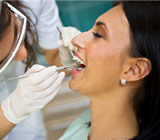 Perhaps you or someone you know has been told they will need root canal treatment. Maybe you're experiencing some unexplained tooth pain, and you think you might need to have this procedure done. Nervous? You shouldn't be! A good understanding of this common and relatively pain-free dental treatment can go a long way toward relieving your anxiety.
What's a root canal? It's the small, branching hollow space or canal, deep within the root of the tooth. Like an iceberg in the ocean, a tooth shows only part of its structure above the gum line: That's the part you see when you smile. But about two-thirds of the tooth — the part called the root — lies below the gum. A healthy root canal is filled with living pulp tissue, which contains tiny blood vessels, nerves and more.
A "root canal" is also shorthand for the endodontic treatment that's called for when problems develop with this tissue. For a variety of reasons — deep tooth decay or impact trauma, for example — the pulp tissue may become inflamed or infected. When this happens, the best solution is to remove the dead and dying tissue, disinfect the canals, and seal them up to prevent future infection.
How is this done? The start of the procedure is not unlike getting a filling. A local anesthetic is administered to numb the tooth and the nearby area. Then, a small opening is made through the chewing surface of the tooth, giving access to the pulp. A set of tiny instruments is used to remove the diseased tissue, and to re-shape and clean out the canals. Finally, the cleared canals are filled with a biocompatible material and sealed with strong adhesive cement.
After root canal treatment, it's important to get a final restoration or crown on the tooth. This will bring your tooth back to its full function, and protect it from further injury such as fracture. A tooth that has had a root canal followed by a proper restoration can last just as long as any other natural tooth. And that's a long time.
If you would like more information about root canals, please contact us to schedule an appointment for a consultation. You can also learn more about this topic by reading the Dear Doctor magazine articles "Common Concerns About Root Canal Treatment" and "Signs and Symptoms of a Future Root Canal."
By Aaron A Leishman, DMD, PA
January 05, 2013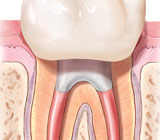 We pride ourselves on educating our patients regarding oral health and dental treatment. This is why we are providing you with these frequently asked questions (FAQs) regarding root canals. Our belief is that by being informed about this important dental treatment, you will be more comfortable should you ever require a root canal.
Exactly what is root canal treatment?
A root canal treatment is an endodontic procedure ("endo" – inside: "dont" – tooth) in which the living pulp tissues are housed, including the nerves. When a severely decayed or damaged tooth begins to hurt, it is because the pulpal tissues are inflamed or infected, and the response of the nerves is varying degrees of pain — letting you know something is wrong. If the pulp is dead or dying it must be removed and the root canal of the tooth is filled and sealed to stop infection and to save the tooth.
Who typically performs them?
Endodontics is a specialty within dentistry that specifically deals with the diagnosis and treatment of diseases and disorders of root canal issues affecting a tooth's root or nerve. While endodontists are dentists who specialize in root canal treatment, general dentists may also perform root canal treatment and are usually the dentists you will consult with when you first have tooth pain and who will refer you to an endodontist if necessary.
What are the symptoms of a root canal infection?
Root canal symptoms and the character of the pain may vary depending on the cause. For example, symptoms may be:
Sharp, acute pain that is difficult to pinpoint
Intense pain that occurs when biting down on the tooth or food
Lingering pain after eating either hot or cold foods
Dull ache and pressure
Tenderness accompanied by swelling in the nearby gums
Does root canal treatment hurt?
A common misconception is that a root canal treatment is painful when, in actuality, it is quite the opposite. The pain associated with a root canal occurs prior to treatment and is relieved by it — not visa versa.
If you have tooth pain, you may or may not need a root canal treatment. Contact us today (before your symptoms get worse) and schedule an appointment to find out what's causing the problem. And to learn more about the signs, symptoms, and treatments for a root canal, read the article "Common Concerns About Root Canal Treatment."