Aaron Leishman
Aaron Leishman has a short bio with brief information on his background. Please view the link below for more information.
9500 Corkscrew Palms Circle Suite 4
Estero, FL 33928
Find us
See what patients are saying about Dr.Leishman
Posts for tag: teeth whitening
By Aaron A Leishman, DMD, PA
August 29, 2014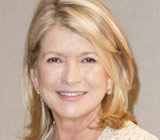 Here's a quick quiz: What recent activity did domestic guru Martha Stewart share via social media for the first time? Need a hint? Was she following the lead of other celebrities like rapper 50 Cent (AKA Curtis James Jackson III), actress Demi Moore and country music star LeAnn Rimes?
Give up? The answer is… she live-tweeted her visit to the dentist! Not only that, she also posted pictures of her mouth as she was undergoing an in-office whitening procedure.
Now, we understand that some might feel they don't need to see close-ups of Stewart's teeth under treatment. But we have to admire her for not trying to hide the fact that she's had the same procedure that has benefited so many people, whether famous or not. Plus, her pictures actually provide a good illustration of how the treatment works.
In-office whitening treatments are the fastest way to brighten up your smile. In a single one-hour visit, your teeth can be lightened by three to eight shades — and that's a big difference! How can we achieve such dramatic results? When you're under our direct supervision in an office setting, we can use the most concentrated bleach solutions safely and effectively. You can get similar results with custom-made trays and take-home lightening solutions we can prepare for you, but then the process will take longer.
If you look closely at her photos, you'll see that Stewart's lips, gums, and face are covered up to prevent any contact with the bleaching solution. She's also wearing protective eyewear, which not only keeps chemicals away, but also guards her eyes against strong lights, which are sometimes used in conjunction with bleach. When we perform in-office whitening procedures, we use safeguards like these for all of our patients — not just celebrities!
We also perform a complete oral examination before starting any whitening procedure, to be sure you don't have any underlying conditions that need to be treated before teeth whitening begins. That's something you just can't get from an over-the counter whitening product.
Teeth whitening is an effective and affordable way to give your smile a quick boost. But whether you decide to live-tweet your procedure — or keep your fans guessing about why your smile looks so good all of a sudden — that's up to you.
If you would like more information about the teeth whitening, please contact us or schedule an appointment for a consultation. You can learn more in the Dear Doctor magazine articles "Teeth Whitening" and "Important Teeth Whitening Questions Answered."
By Aaron A Leishman, DMD, PA
April 04, 2013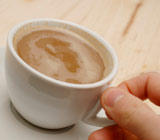 Do your teeth stain easily? Are you worried that your new white fillings won't remain white for very long? Staining generally falls into one of two categories — extrinsic (external) staining, which affects the outside of the teeth, and intrinsic (internal) staining, which is discoloration of the tooth structure itself. The good news is that both can be treated and, once we determine the exact cause, there are a number of options to remedy it. You can have whiter teeth in almost no time!
External staining is generally caused by beverages or foods like red wine, tea, coffee and some spices, or even substances like tobacco. Stain that is brown, black or gray can become even worse in the presence of dental bacterial plaque and when the mouth is dry. On the other hand, internal tooth staining can make the teeth appear more yellow as a natural result of aging, or after root canal treatment when tooth structure can become more brittle and dry.
Treatment for external (extrinsic) staining includes:
Lifestyle modification: You can help put a stop to your staining problem by reducing or eliminating the habits that cause it, such as smoking and drinking red wine.
Practicing efficient oral hygiene: Preventing extrinsic staining can be as simple as brushing twice a day with toothpaste that contains tooth-whitening agents or other solutions to reduce the appearance of stains. Don't be embarrassed to ask our office about brushing and flossing because most people do it wrong until they're properly instructed.
Professional Cleaning: We can remove some extrinsic staining with ultrasonic cleaning followed by polishing with an abrasive prophylactic paste.
Other treatment options to reverse either intrinsic or extrinsic staining include:
Whitening by bleaching: Bleaching for extrinsic stains can be performed either in our office or at your home using a whitening kit. Bleaching for internal (intrinsic) stains can only be conducted in our dental office because it typically involves bleaching the tooth or teeth from the inside.
Fillings and restorations: For teeth that have been stained due to decay, or for fillings that are old and discolored we can remove the decay and restore the teeth, which will restore them to their natural brighter color.
If you are ready to say goodbye to your stained teeth, call our office today to make an appointment. For more information about treating stained teeth, read the Dear Doctor magazine article "Tooth Staining: Getting To The Cause Of Tooth Discoloration Is The First Step Toward Successful Treatment."